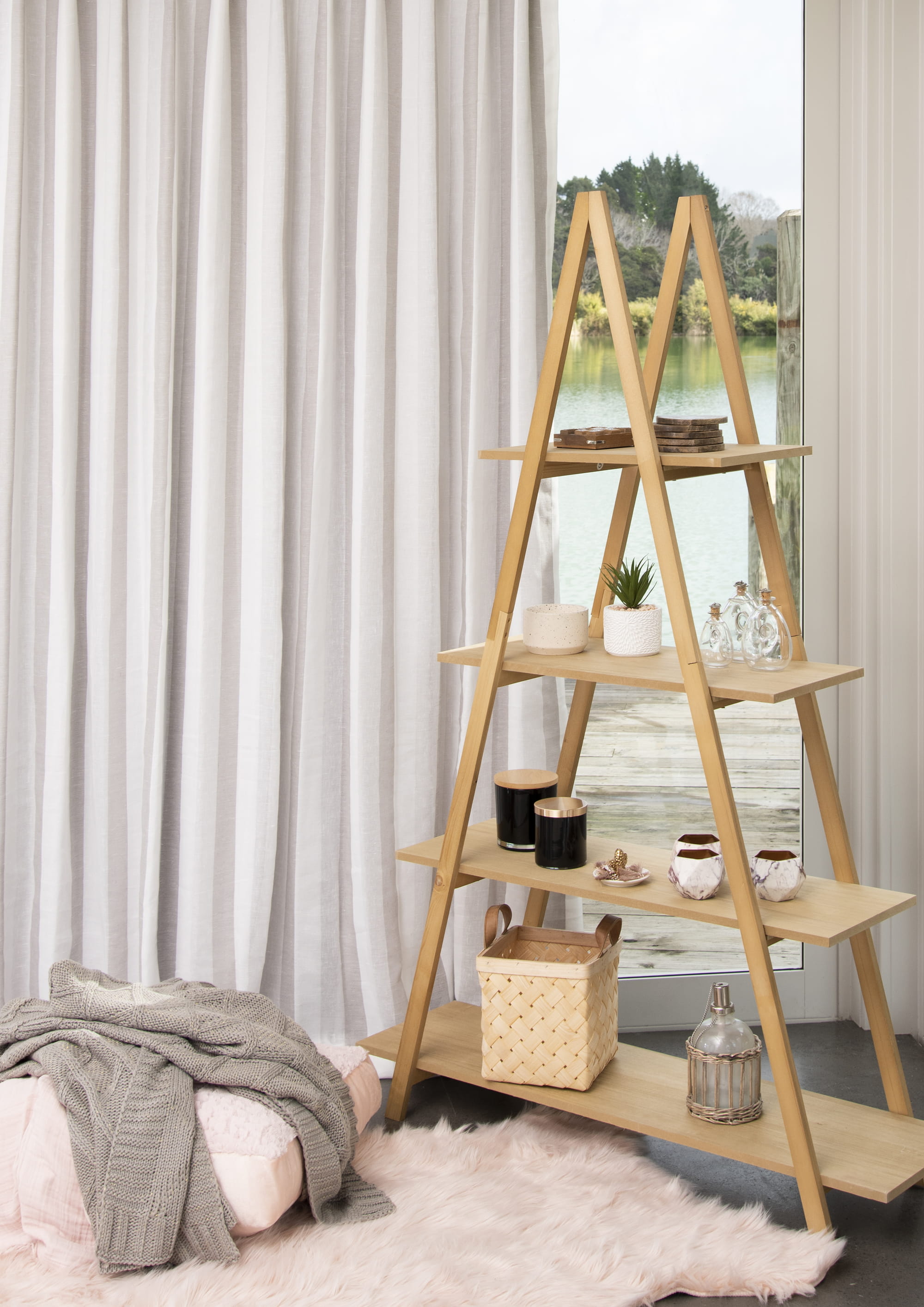 Summertime calls for a bach design refresh, and that includes the windows! Window treatments help protect your home from the harsh New Zealand sun. But which options are best to keep your beach house fresh and functional? Read our beach house design tips below to discover the benefits of different window treatments and what they can bring to your holiday home.
Curtains
When people think of the classic Kiwi bach, it is usually near a beach, somewhere that embodies the cruisy and relaxed holiday lifestyle. Choose the perfect curtains to bring this coastal and comfy feel into your holiday home.
Sheer and semi-sheer curtains in natural colours and fabrics, such as light linen or cotton, can help keep the hot sun at bay while keeping the room light and airy. If you want to soak up the sunshine indoors while maintaining a little privacy, sheer curtains can be a fantastic solution. They will soften and diffuse sunlight without blocking it out completely, opening up the room and creating a welcoming atmosphere.
Shutters
Shutters can be the perfect window treatment solution for holiday homes, offering control over light, privacy, and ventilation, while still looking aesthetically pleasing. Shutters are a classic beach house design feature. They're hardy, durable, and easy to clean, perfect for coastal environments with salt in the air. Shutters can be custom-made to fit any window. Harrisons Curtains & Blinds works with the leading shutters manufacturers to offer three different ranges: Classic, Classic Plus, and Artisan, each available in 3 styles - Hinged, Bi-Fold or Sliding.
Classic: Our Classic range is hardwearing and cost-effective. Made with a polypropylene coating, these shutters are sturdy and resistant to moisture, making them an excellent choice for bathrooms or kitchens.
Classic Plus: The Classic Plus range has all the benefits of the classic range. However, the shutters have ABS blades that are more hardwearing and lightweight, meaning they can be used in larger dimensions.
Artisan: The Artisan range is a hardwearing, water-resistant composite shutter manufactured with ABS and wood laminate. Its high durability makes it an excellent option for bathrooms.
Blinds
If your bach is in a hot area, blinds may be your best choice – specifically sunscreen blinds. Sunscreen roller blinds are partially transparent and will filter up to 95% of the harsh UV rays, which is ideal for providing privacy during the day and protecting your interiors.
Roller blinds are a stylish and easily customisable option for any beach house design. If you don't want to lose your views, sheer options protect you from the sun. Roller blinds can even be motorised for ease of use!
If your holiday home needs a spruce-up in the window treatment department, get in touch with Harrisons today! Harrisons always goes the extra mile, starting with the fact that we bring our showroom to you. We ensure you have a great experience with us, from our first visit to when your window furnishing has been installed. Book now for an in-home measure and quote, and get your holiday home sorted for summer!