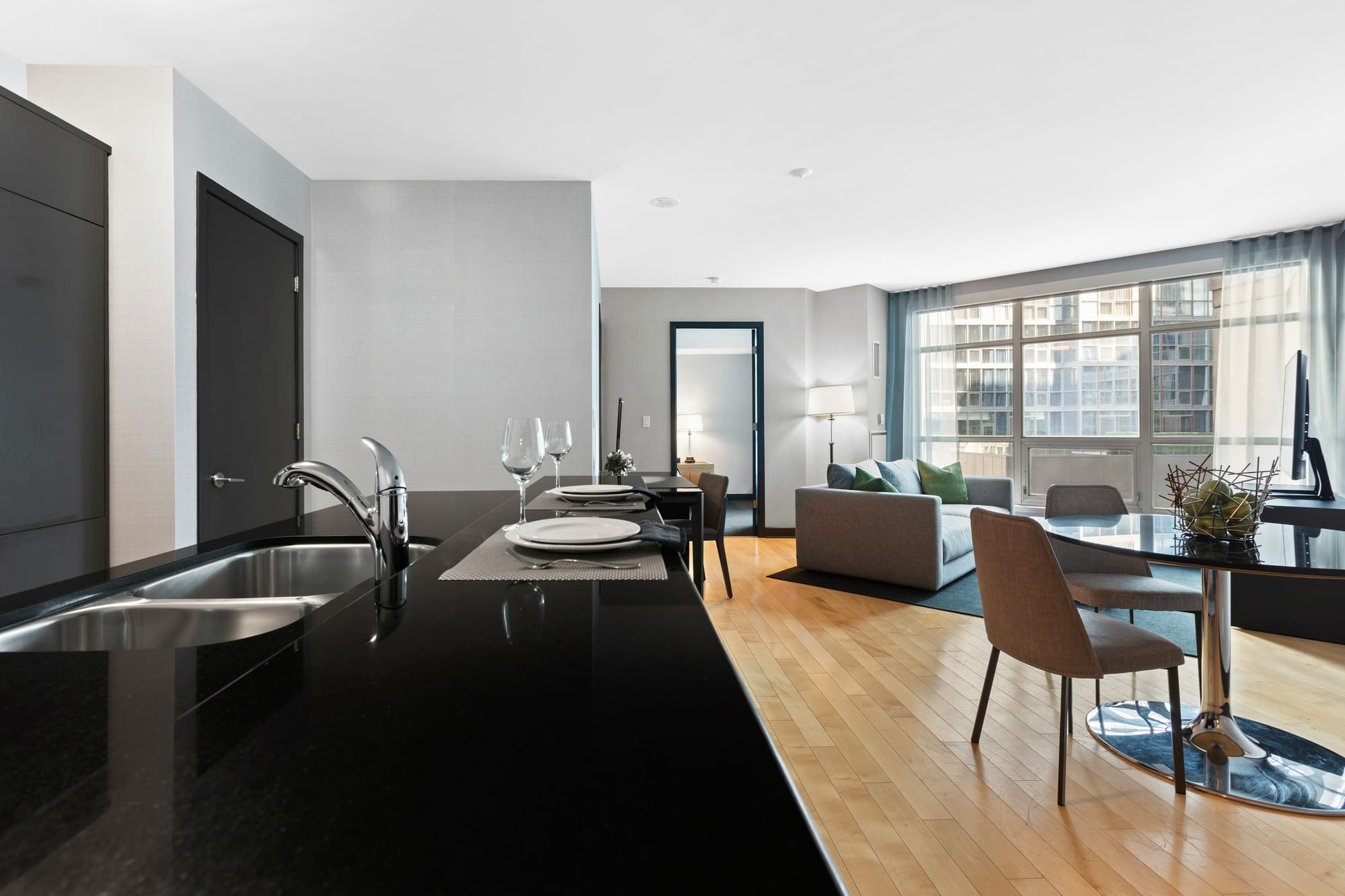 Roller Blinds
Roller Blinds are a contemporary classic that is functional and easy to operate. Roller blinds are practical, modern, and stylish and can complement the style of any room. Roller blinds will streamline the look of any window treatment and provide a clean and uncluttered feel in the home. At Harrisons, we offer roller blinds in an extensive range of Blockout and Light filtering fabrics.
Venetian Blinds
Venetian Blinds are a stylish way to control light and privacy. They also show timeless sophistication as a contemporary window covering and remain an affordable option. Venetian blinds were a must-have for high society homes for centuries and are still a hugely popular choice.
Adding Venetian blinds to an apartment will instantly give it a classic and sophisticated style. You can easily customise Venetian blinds in various materials and colours, perfect for any home aesthetic.
Sheer Curtain
Sheer curtains in NZ are a great way to bring plenty of natural light into your apartment. Make even small rooms feel open and breezy without sacrificing your privacy. Sheer curtains are the perfect choice for households with children. They are made from a durable polyester fabric that is easy to maintain.
Modern sheer curtains come in any colour, style, texture, and pattern imaginable. There are multiple options when it comes to styling sheer curtains. Hang them alone or over heavier curtains to add a layer of light blocking.
Blockout Curtains
Blockout curtains are a practical option with plenty of benefits, including a better night's sleep. Blockout curtains are primarily used to control light. However, they also reduce outside noise, retain heat, and keep your energy bills down.
Blockout drapes come in many styles and colours, making them a great design idea for any living area, dining room, bedroom, or even studio apartment. You can find the perfect ones regardless of your apartment design aesthetic!
Patterned Curtains
Patterned curtains are the way to go if you want to make a statement! When most people think of patterned curtains, they think of their grandma's floral monstrosities. Luckily there are many more stylish options on the market today! Find fun and playful retro prints or a more subtle monotone pattern to add a stylish focal point to your interior apartment design.
Make your apartment a home with Harrisons
Use our great curtain apartment styling ideas to bring your dream living space to life! Everybody wants their home to be a beautiful expression of themselves, their family, their history, and how they like to live. Harrisons makes it wonderfully easy. Please browse our products today and find the perfect window treatments for your space.