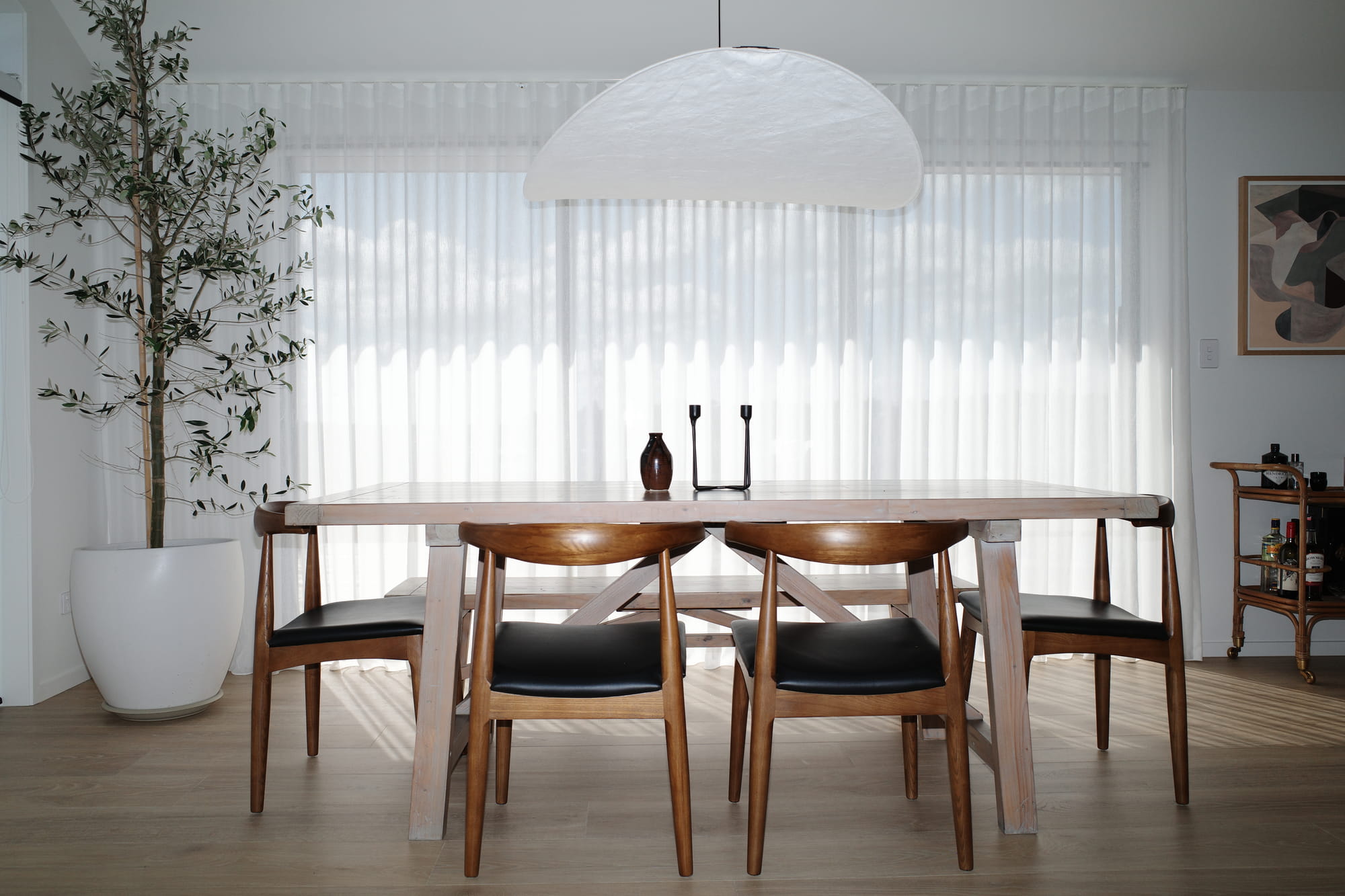 Meet Jade
"Hi! I'm Jade and I live in Huapai, Auckland with my partner, 8-month-old son and 4 chickens! I relocated from the UK 8 years ago and now call NZ home."
Tell us about your new build family home
"We were struggling to find a house that ticked all the boxes within a tight budget. We got lucky when we stumbled across a 'land and build' package on Trade Me and our offer was accepted that day! Although the plans were already finalised, we were able to tweak small elements to suit our personal style. The whole process from contract to handover took 12 months."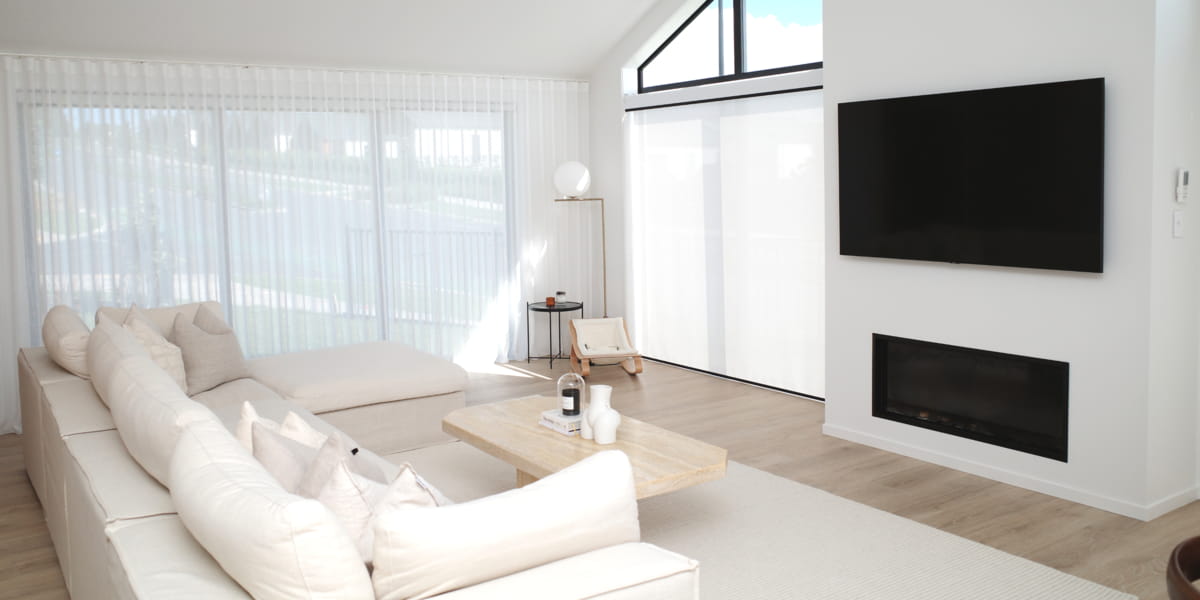 What was the vision you had for your lounge and dining room?
"I had a very defined vision for our living spaces. Our living room features a high raked ceiling surrounded by cathedral windows and a fireplace as the focal point. We enjoy entertaining so an open plan design was a must. I wanted a neutral, minimalistic décor incorporating inspiration from both Japandi and mid-century influences. I chose light soft furnishings mixed with contrasting walnut/black accents found in our dining chairs and kitchen. Life with a baby is hectic, so a calming and uncluttered space helps us relax."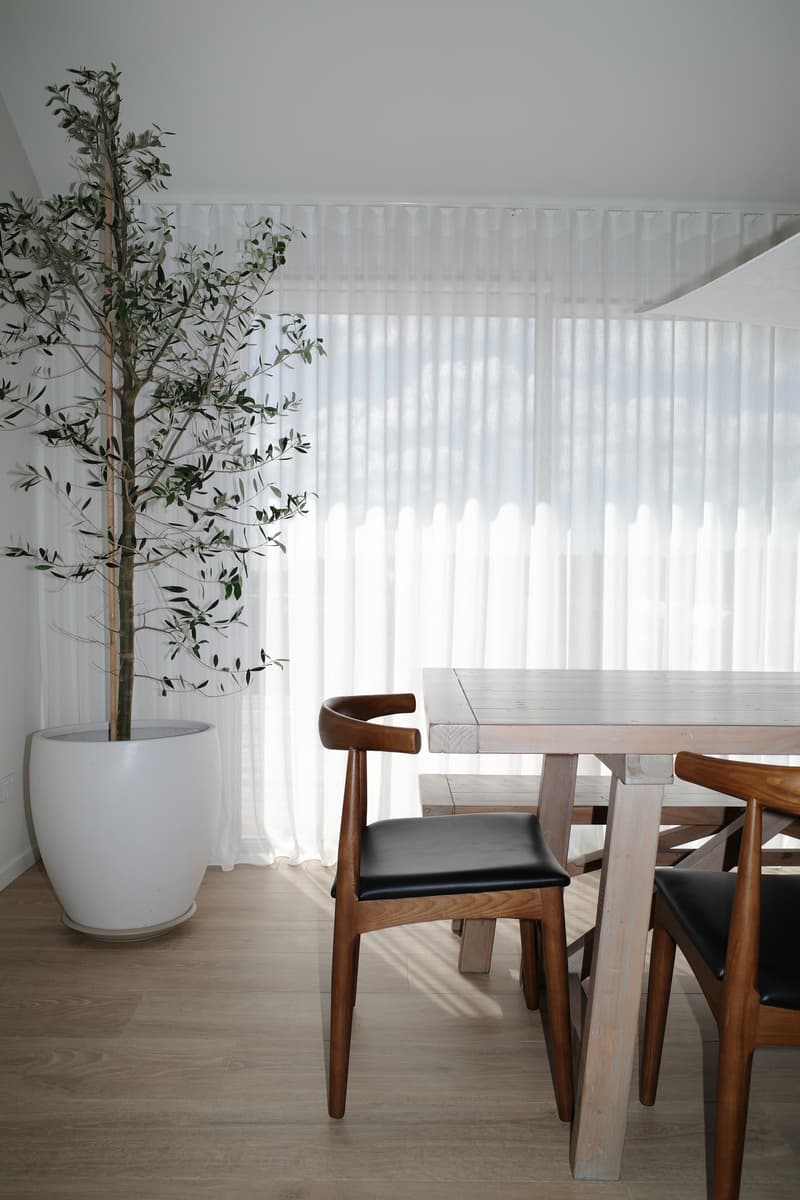 How did you come to select your curtains?
"We decided to go with Harrisons as they had so many options to choose from, all of which were brought to our in home consultation. We opted for the Float fabric in the colour chalk - they are a beautiful off-white curtain which hang off a wave curtain track or some call an S-fold track, our curtains were made to just kiss the floor. They span ceiling to floor and wall to wall to maximise the space and add a bespoke feel."
What was important for you when choosing your curtains for this space?
"Maintaining privacy whilst filtering just enough light to keep the room bright was a priority, which made sheers the perfect option. These were layered with blackout roller blinds to provide extra privacy at night. I absolutely love how they transform a room and protect furniture from sun damage."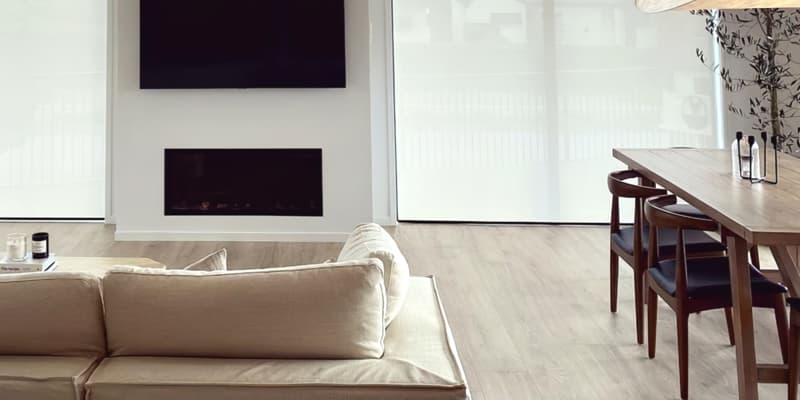 What flooring did you go with?
"Originally, polished concrete flooring was specified. After speaking with other mums, we soon realised switching to a softer laminate floor would be more practical, especially with wobbly babies! The laminate planks are extra-long and wide to emphasise the length of the room. They add warmth to the space and are super low maintenance! Do yourself a favour and invest in a VOP, vacuum and mop in one!"
Karcher FC 5 Cordless Hard Flooring Cleaner
Do you have any home styling tips?
"I'm no interior designer but if I had to give any advice I would say to scroll through online resources like Instagram and Pinterest to gather inspiration. Be strategic about items you can splurge on and where you can cut back. My non-negotiable item was the 1.2m pendant above the dining table. Investing in good lighting is key to creating an ambience! The olive tree was free from Facebook Marketplace, such a steal! Buy an oversized rug and add some plants!"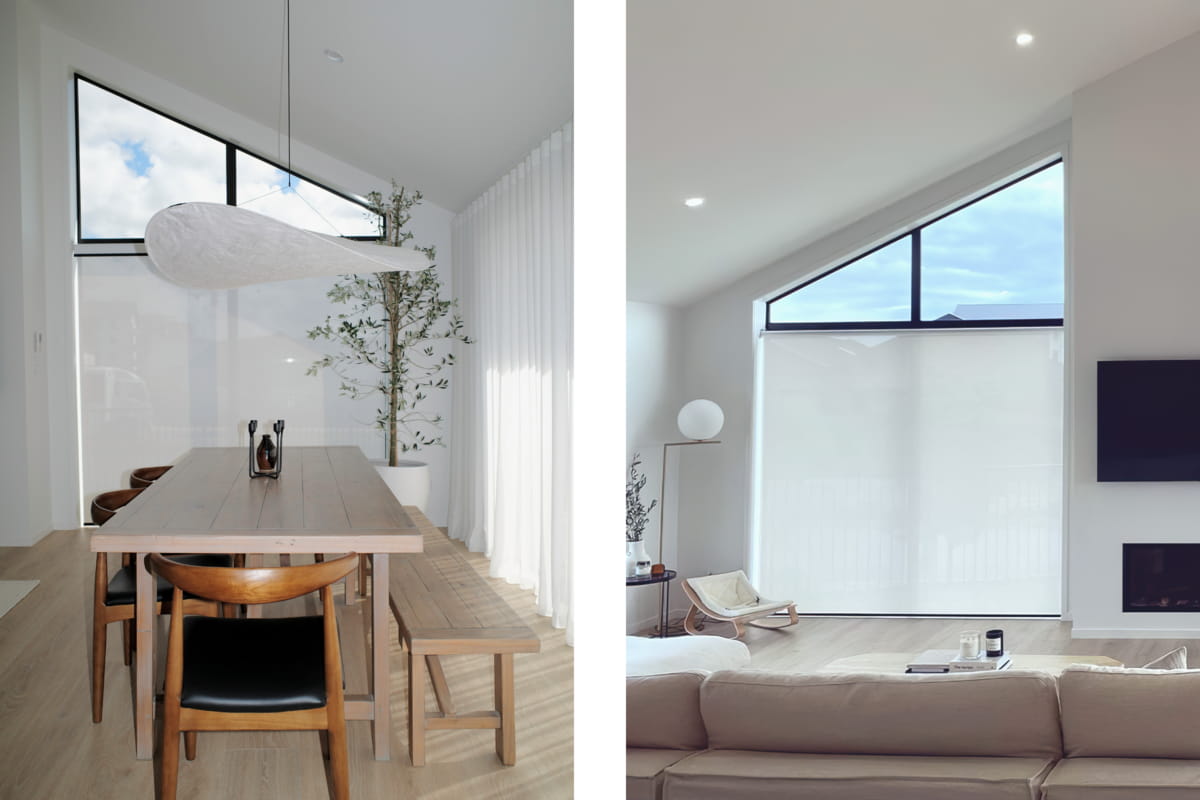 How can my home be featured?
If you have a renovation with Harrisons products get in touch to be featured on our website.
Contact us at marketing@hah.co.nz