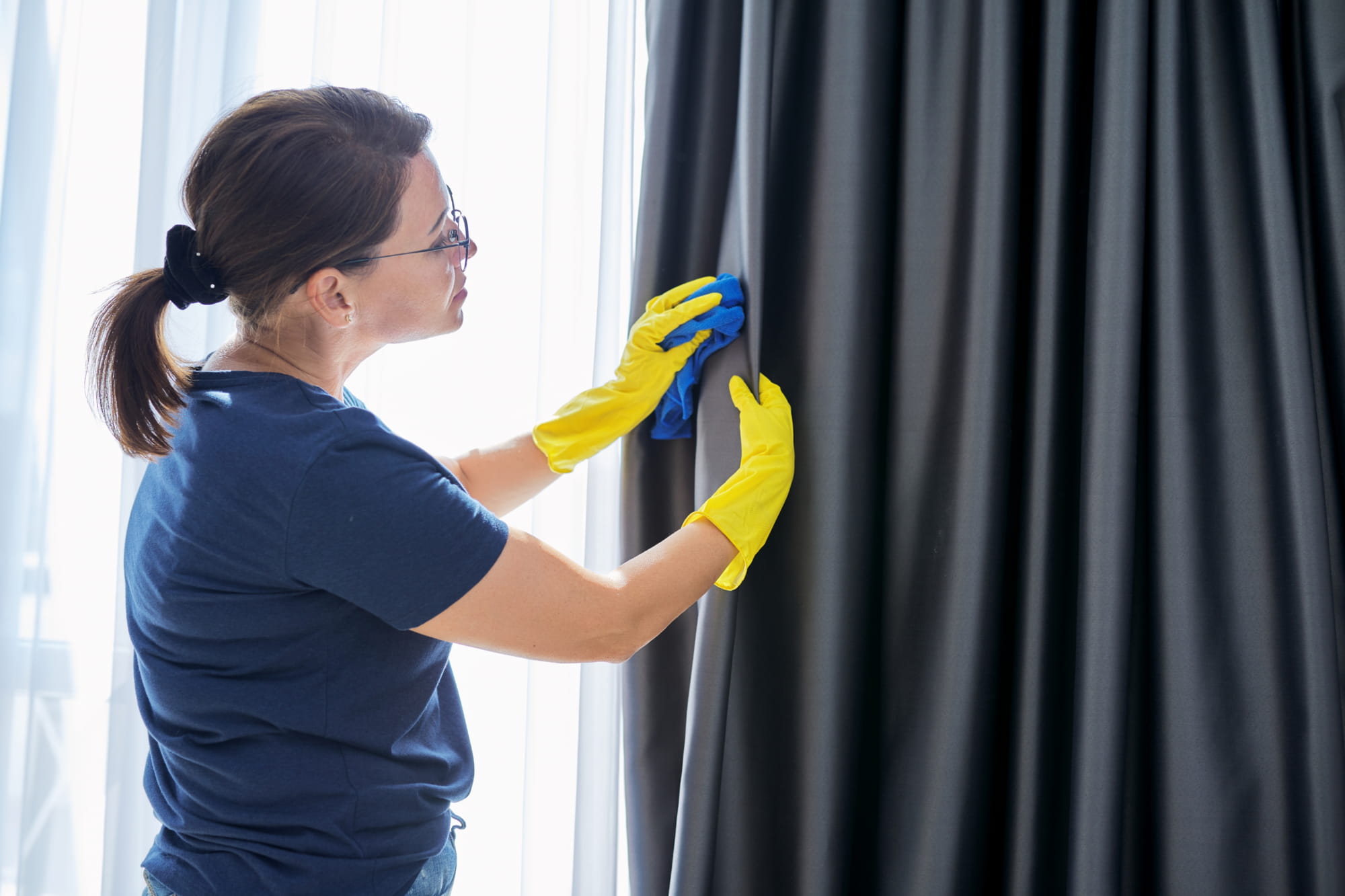 Mould is sneaky and can creep up our curtains quickly if we're not careful. Fortunately, if you catch it soon enough and know how to remove it, it doesn't need to be a long-term problem.
Keep reading to learn how to remove mould from curtains and blinds and stop it from growing in the first place.
Removing mould from curtains & blinds fabric
It's good practice to check your curtains and blinds regularly throughout winter for any signs of dampness, mould, or mildew. Windows often collect condensation, and because of this, they are prime locations for mould and grime to accumulate. This can be not only bad for our window treatments but also for our health, which is why checking, and cleaning window treatments is so important.
However, once you learn how to remove mould from curtains, you'll know it's an easy step-by-step process that won't take too long. A top tip is to learn what you can and can't put in the washing machine! Thermal backed curtains generally don't like the surging heat of a dryer but can handle a gentle wash. Always check the fabric before throwing it into machines and hoping for the best!
Here are a few tips and tricks to remove mould from curtains with ease. Be mould free and keep your home healthy.
#2 – Hand or machine wash your curtains
Before you wash the curtains, give them a quick vacuum. It may sound strange, but it picks up any spores you might have missed with the bristle brush.
Once the major spores are removed, it's time to wash your curtains. If the curtains are machine washable, use a gentle detergent and a gentle wash cycle. Otherwise, play it safe and fill a tub with a mild detergent or baking soda and vinegar concoction. From here, gently hand-wash the fabric until sparkling clean.
#3 – Make sure curtains are completely dry
Given that mould likes damp areas, make sure the curtains are completely dry before hanging them up again. Hang them in a sunny spot with good airflow (preferably outside) and leave them until they are completely dry.
If the curtains are made from a sturdy fabric that can be put in the dryer, feel free to make sure by popping them in the machine for a quick tumble!
Prevent mould & mildew to stop It at the source
To combat mould, we need to know how it grows to prevent it from taking hold in the first place.
Mould is essentially a fungus that feeds off damp air and organic material. This organic food can be anything from airborne food particles to dust and dirt.
The best way to prevent mould is to ensure mould doesn't have access to this diet, so it can't feed and grow. A great way to do this is to have good air ventilation. Not only will this take moisture from the air, but it'll also disperse any dust, food, or dirt to stop mould in its tracks! Try a home ventilation system, dehumidifier, or simply open some windows to encourage airflow!
Get quality curtains that last & look great with Harrison's Curtains & Blinds
Harrisons Curtains & Blinds supply quality curtains with a range of linings and designs that you'll want to keep free of mould! We also supply tracks and rods to suit your fresh new window treatments and create a holistic theme in your home.
Get in touch with Harrisons to book a free consultation and quote. Our team are happy to help you find the perfect curtains or blinds for your home.