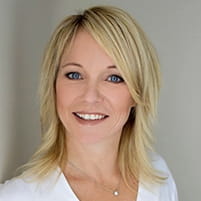 Natasha Gleeson is one of our Harrisons Curtains owner/operators in the greater Auckland area and lives in Karaka.

I have previously worked in the housing industry and have always had a passion for home improvement including my own home of which I'm forever changing with new ideas as they change with the times.

I enjoy gardening and garden design and have spent many hours playing around in the garden for my down time. I am also a mother of two active boys of which keeps me busy with after school activities and weekend sports so life is never dull in my home.

Having an eye for detail and the passion it brings I enjoy working with clients to get a desired result. No two jobs are ever the same and that's the excitement of walking into a blank canvas and leaving with a great result and happy customer is very rewarding, I get excited for the clients when we pull it all together.

With my van full of the latest fabric designs and colours and my great ideas call me today to make an appointment to come to your home and have a no obligation consult.

I look forward to meeting with you!