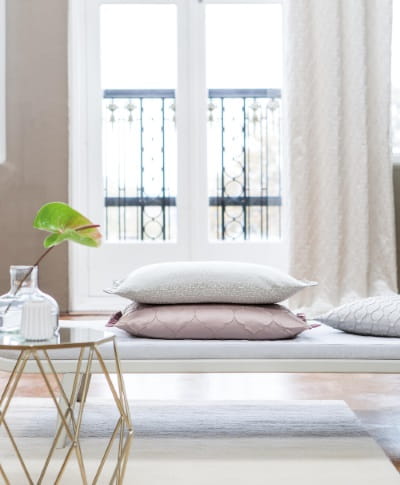 Here are five ways that curtains enhance our home life.
1. They are able to reduce sound
While curtains are unable to block out noise completely, there are a few tricks you can use to help reduce sound travelling through your windows and into your home - especially important if you only have single-glazed glass.
The first one is to choose custom curtains that are made of a thick fabric and to always opt for a thermal lining. And secondly, consider installing blinds too, as the more layers sound has to travel through, the greater the reduction in noise.
2. They provide insulation against the heat and cold
New Zealand home's aren't particularly well known for their ability to stay cool in the summer and warm in the winter, which is why investing in custom-made curtains is imperative for temperature control. And the great thing is - you don't have to have different sets depending on the season, as thermal-backed curtains do both jobs.
Basically, they minimise whatever is happening outside, inside. So if the sun is streaming through the windows, you simply use curtains to block it out. And when winter arrives, the curtains provide a barrier, keeping generated heat in, and chilly air out.
You need to ensure you get the right fit though, as any gaps either side of the window, or above and below, will reduce their effectiveness. Which is why custom curtains are highly-recommended, as they are made to specific measurements.
The benefit of them is twofold - a more enjoyable home inside and lower electricity bills that come from heating or cooling rooms.
3. They allow for privacy
No one really likes living in a goldfish bowl, so of course, curtains are the best option for ensuring you get privacy from the outside world.
And the great thing is, with the variety of material and options on offer, you can still have the benefit of looking out while enjoying a private lifestyle indoors. Sheers made of voile, organza or muslin fabric are a favourable discreet option, and venetian blinds or shutters can be tilted to still allow in light. There is also the option of sunscreen roller blinds and blockout blinds, contemporary, no fuss window treatments that are great at assisting with insulation and privacy.
4. They create a personalised 'atmosphere'
We all like to think of ourselves as individuals with our own personal tastes, and curtains are the perfect way to create a unique look inside our homes.
For those who prefer minimalism, you can choose a plain fabric or something with a raised pattern for texture. But if colour is more your thing, it is easy to achieve a fresh, vibrant look without the hassle of it being permanent - if you change your mind in a year or two.
And with Harrisons, there is never any worry of selecting the wrong curtains or blinds for your interior, as our experts come to you as part of our free in-home consultation.
5. They can control your environment
It may sound a little strange, but curtains actually have the ability to make our spaces feel a particular way, which in turn has an effect on how we feel when we are in a room.
In your bedroom, you'll probably want to have a relaxing environment, and this can certainly be accomplished by using a soft, flowing fabric that drapes on the floor. And a light colour - perhaps a pastel, cream or white - will add to the 'feeling' of calm.
If you have a large living area where you want the ability to create more of a cosy, intimate space, thick drapes in a dark colour can definitely help it appear small and enclosed - perfect for a dinner party on a chilly winter's night.
Don't leave it to chance, make sure you choose the right curtains or blinds that will help to define the style you want to achieve in your home. Book your free in-home consultation with Harrisons Curtains and Blinds today.