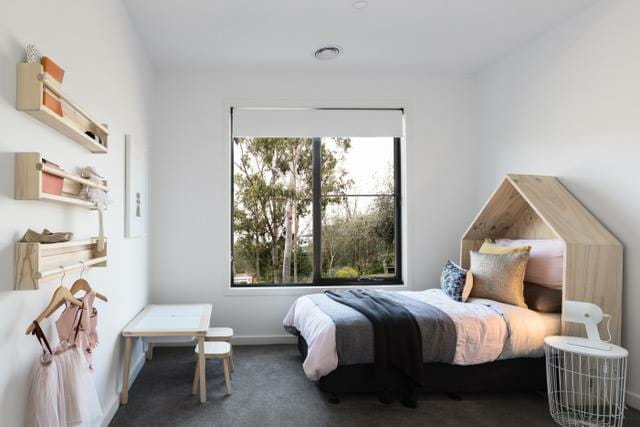 Here's your beginners guide to blinds for your home.
Honeycomb Blinds
Honeycomb blinds are also known as cellular blinds, and as the name suggests, they are shaped like a 'honeycomb' in a beehive (when you look at them side on).
This design has a functional purpose in that the pleated air pockets are able to offer an insulation effect similar to double-glazing. They are also cost-effective (compared to double glazing only), which means they're suitable for the whole home, especially bedrooms, as they come in both light filtering and block-out options.
Available in a variety of colours, there's a honeycomb blind to suit your home.
Venetian Blinds
Venetian blinds have long been one of the most popular types of blinds due to their versatility and convenience of use.
Our Venetian blind comes in three kinds of materials 'aluminium, PVC and wood' giving customers lots of options for different interior styles. Aluminium is a great choice for narrow window reveals and PVC for wet areas such as kitchens and bathrooms. Of course, Venetian blinds also tilt, giving greater light and privacy control, making them perfect for windows that face roads or busy pathways.
Timber Venetiansprovide homeowners with all the benefits of a normal Venetian, but with the addition of an extremely stylish, chic look. Our timber is sourced from
sustainable plantations, making it environmentally friendly. The slats are also coated with an extra heavy UV coating to ensure they stand up against our harsh New Zealand sun.
Roller Blinds
Roller blinds are extremely versatile, making them a household favourite. They're very discreet, as you can hide them away when not in use, but when they're down, the look is contemporary and unobtrusive. Depending on your requirements, roller blinds can provide a great deal of privacy during the day while still allowing light to filter through, these are known as sunscreen rollers.
Blockout roller blinds offer both a great deal of insulation and can black out a room, even during the day, making them perfect for those needing to get some shut-eye when the sun is still up. Sunscreen and block-out roller blinds can be combined on most windows by installing a double bracket, giving homeowners the best of both worlds. Roller blinds can also be used on large doors and windows too, making them a smart choice for all kinds of home interiors and spaces.
Vertical Blinds
There's no doubt vertical blinds are an economical choice and provide a dual function for both night and day. The blades can be tilted 180 degrees to let light in or to provide complete privacy. They can also be pulled open along a track, moving out of the way of doorways if required.
Blinds are a versatile, practical and modern choice for window coverings, and because Harrisons consultants are mobile, it means you can make the right decision, all from the comfort of your home. We'll bring out a wide selection of samples and help you find the perfect choice, plus give you a proposal on the spot.