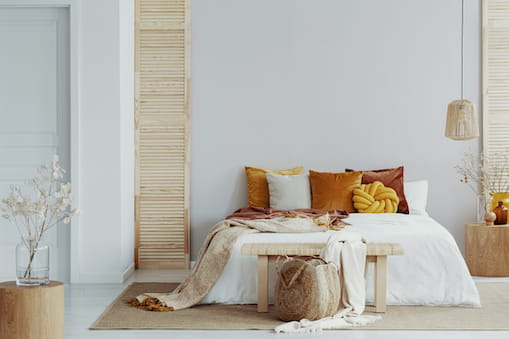 By Harrisons Interior Designer, Anita Shirley
This year I am restyling your home, room by room so we can really get down to the nitty gritty and style your home to be the envy of the neighbourhood.
April is all about your bedroom. I'll give you tips and tricks on how to turn your bedroom into a luxurious sanctuary, that you are wanting to curl up in.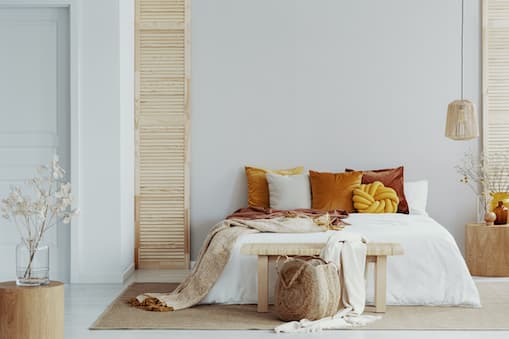 Colour scheme
When styling your bedroom, make your focus a relaxing and calming space where you can fall asleep with ease every night. To create this, let's start with the colour scheme. I recommend a soothing palette of monochromatic tones for the walls instead of bold primary colours for a feature wall, as this can make the room feel too busy. If your current walls are dark and the room feels small and claustrophobic, paint them a light tone to increase a sense of space.
Tip 1: Paint the ceiling a slightly lighter version of the wall colour. This helps lower the ceiling visually, creating a feeling of comfort and intimacy. You can still add colour through accessories and bedding. Don't be afraid to mix and match, this is your space and it's important to add your own personal touch.
Tip 2: When mixing and matching colours, choose 3 colours that are side by side on the colour wheel so they mix well. In this image, you'll see the cushions are yellow, orange & reds.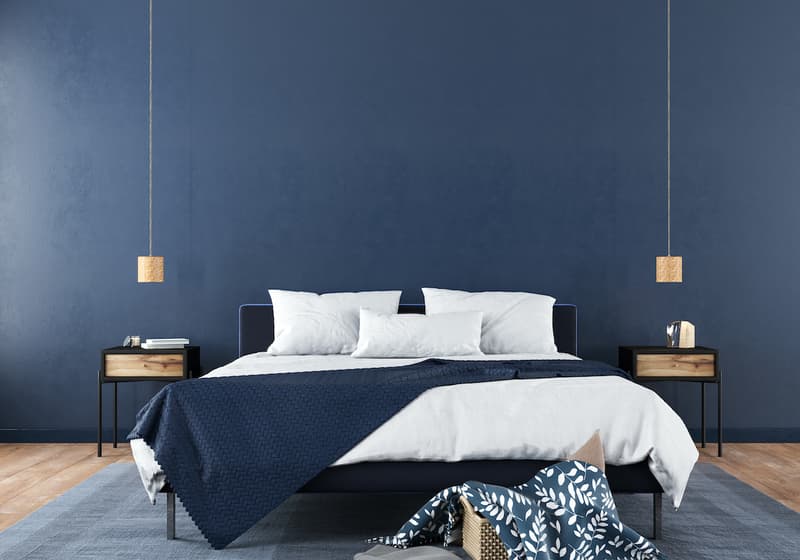 Updates
Is your bedroom furniture ready for an update? A chipped chest of drawers or an outdated bed base can ruin the stylish look you're trying to achieve. The bed is our main priority as the primary focal point of your room. It's also the place you spend most of your life, so it's important to make this as inviting and comfortable as possible.
Treat yourself to some new bed linen and duvet cover and add a throw to the end of your bed, matched with various cushions and pillows. This builds your colour scheme as well as adding a touch of luxury.
Tip: For those who struggle to 'switch off' at night, I recommend dark blue and navy hues to create a calming and tranquilambience to the room.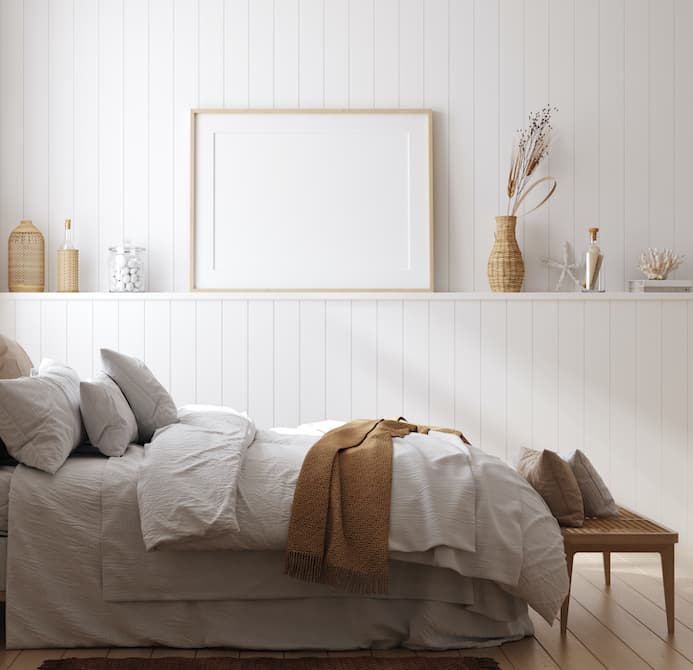 Proportions
One thing that is often forgotten is the scale of the room. If you're purchasing new furniture or lamps remember to scale them according to the size of your room. Don't buy a large bed base for a small room, or a small pendant light for a large room.
Large rooms benefit from adding a bench seat to the end of your bed and a chair with cushions in the chosen colour scheme. This will utilise your space well and give it a cosier feel too.
Tip: If you have a high ceiling, a tall headboard will help visibly bring it down to size. You don't have to spend a fortune restyling your bedroom and there are design solutions at all price points. Sometimes a chest of drawers only needs a fresh coat of paint or new handles.
Tip: Placing a rug partially under the bed frames the area and adds texture.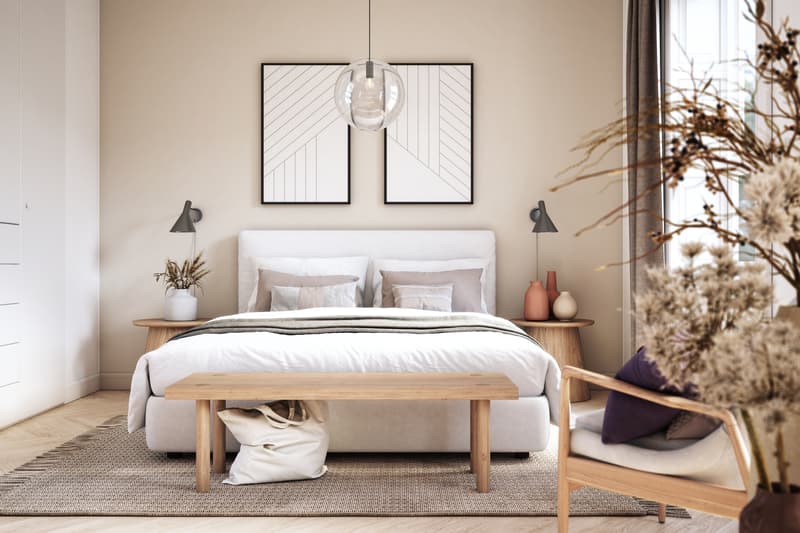 Lighting
Review the bedroom's lighting to determine your comfort levels. Dimmer lights will add flexibility to your room and mood whether you're lost in a good book or a passionate romance!
Tip: Adding stylish lamps to opposing bedside tables creates symmetry and is pleasing to the eye.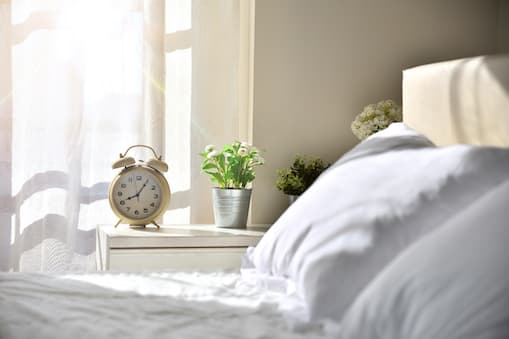 Windows
A window isn't an obvious interior design choice, but it can easily be turned into a piece of art. It's the perfect place to add pattern, texture and colour. My favourite look is a floaty linen sheer look.
Tip: Double curtain tracks with the sheer on the front track add a layer of privacy but are soft and luxurious. At night, the rear track is drawn to provide complete block-out and warmth.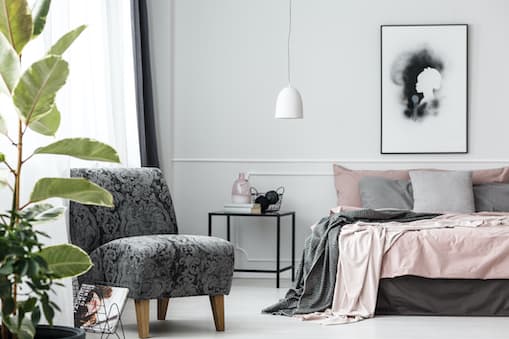 Ambience
Lastly, it's important to consider the overall ambience of your bedroom. Keeping the room tidy and changing the linen often will draw you in too. A diffuser or candle is to add a subtle fragrance and promote relaxation.
Tip: Breathe some life into your room with houseplants! It brings oxygen into the room and signifies tranquillity. Consider a Ficus Elastica (Rubber plant) with its large shiny leaves and strong vertical interest.
With these simple décor tips you will soon have a tranquil bedroom haven that fresh and inviting while still comfy and cosy.
Happy styling!
Anita xx