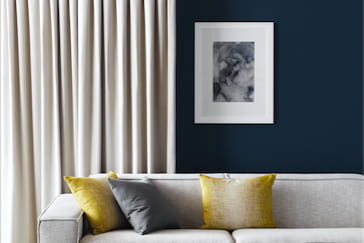 Consider the practical aspects.
For a majority of people, curtains are, first and foremost, a practical part of their home - they serve an actual purpose. So it makes sense then that just like we have different rooms in a house, each would have different window dressing requirements.
Take our bedrooms, for example - here. We predominantly want to sleep and rest and also stay warm, which means that the best choice would be dark, thermal-lined curtains. Privacy is also likely to be desired, with a variety of roller blinds able to provide this aspect when the curtains are open during the day.
In the lounge, where we spend most of our time, having dark drapes probably isn't critical, but privacy will be - while still allowing light to filter through. This may mean Venetian blinds would be a good option, with plenty of control due to their tilting ability.
For the kitchen, window dressings may be minimal, but if you do want to have something for added privacy or decor, they need to be hassle-free and, most importantly, safe to use around cooking appliances (i.e. no hanging materials around stove tops).
Know the look you want to achieve.
The next step is understanding the appearance of your different rooms and what may be suitable to complement the decor. Your bedroom may be a neutral space without too much colour, so you could either continue along those lines with simple light tones or sheer curtain fabric or go with something a little more textural and luxurious.
In your living room, you will no doubt have a certain look and feel, which can be further enhanced by the right window dressings - and it doesn't have to be about curtains either! Shutters are a very popular option for many modern homes today. They provide a seamless design as well as privacy and warmth while also being visually appealing.
Understand all of your options.
Here's the thing - you don't have to just choose one or the other when it comes to curtains, blinds, venetians and shutters. Plenty of homeowners are discovering the benefits that come from using dual products or layering in order to achieve the desired result in each room.
And there is no need to feel limited by your options either, as Harrisons Curtains has a large range of window dressings that can be mixed and matched depending on your requirements. Your choice doesn't just be about practicality or purely for style - you can have both!
Our experienced team come to you with their mobile stores with over 500 fabric and design choices, enabling you to make the right choice the first time.