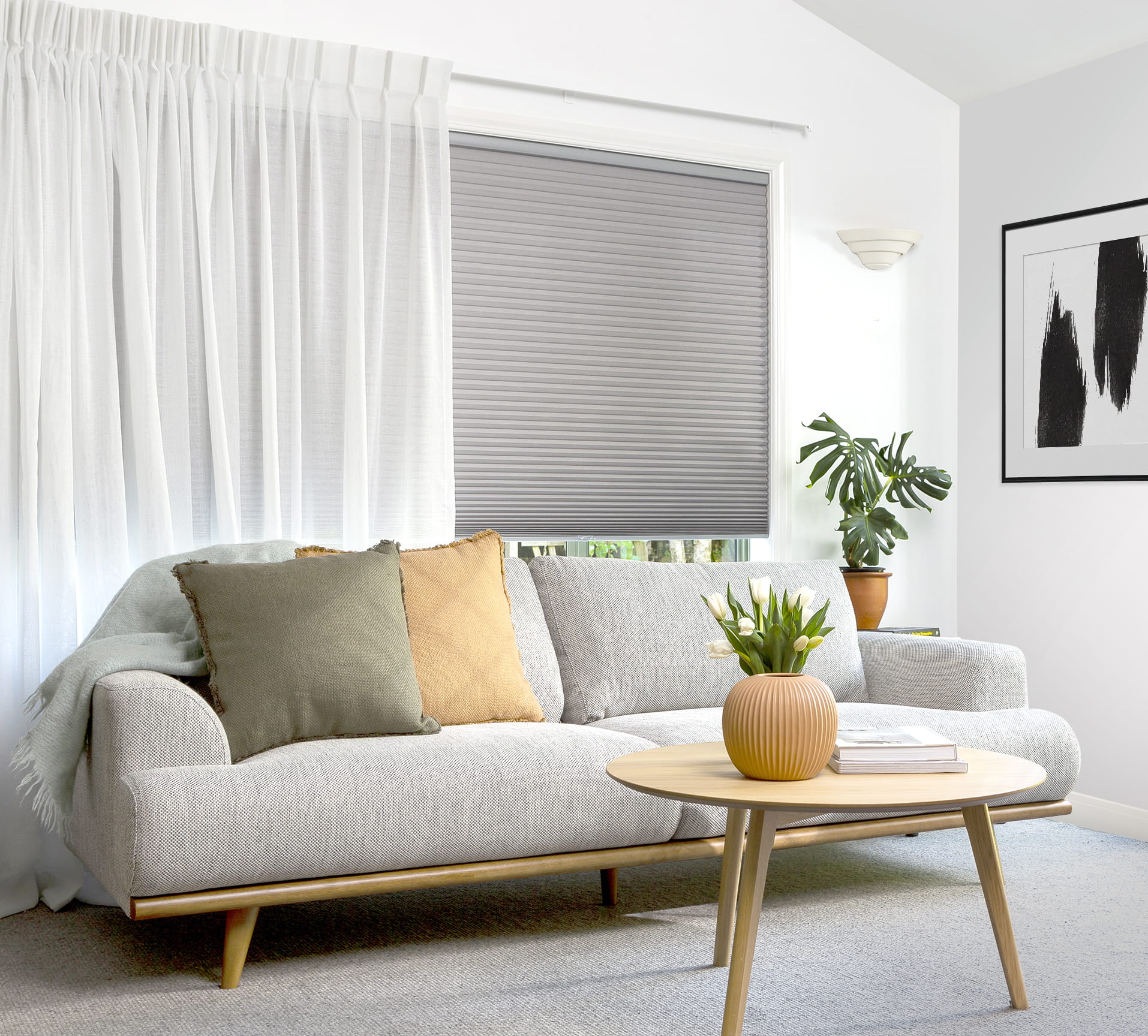 Thermacell, otherwise known as honeycomb or cellular blinds, is becoming more popular in New Zealand. High power costs and climate elements make them an incredibly rational choice in winter, as the ingenious cellular design is good for blocking out the temperature.
There are pros and cons to thermacell shades, as with any window treatment. Harrisons Curtains and Blinds has put together a quick guide to help you make the right choice for you!
Advantages of thermacell or honeycomb blinds
Insulation
Thermacell blinds' cells are created to trap and conserve air, retain heat and keep the cold out. Honeycomb structure enhances the insulation of your home and increases energy efficiency. They produce a similar effect to double glazing at a cheaper cost.
Privacy
Cellular blinds have the added benefit of regular blinds. However, they also provide privacy. In fact, their ability to block out light is better than other blinds. Multiple layers make it challenging to look through these blinds from the outside.
Noise cancellation
The cellular design of honeycomb blinds provides another fantastic benefit - the ability to block out noise. While they can't cancel all the outside sounds, these blinds noticeably reduce the volume and add an extra layer of tranquillity to your home by dampening the various noises from outside.
Customisable and stylish
One size does not fit all. Some windows can have unique shapes or placements. But for Harrisons, it's not a concern! We will customise any shades to match any window, even skylights.
Here at Harrisons, we have a massive range of stylish and trendy colours, all designed to match your inner designer's dream. You can even choose dual fabrics.
Family-friendly
Our collection includes a cordless option that is safer for young children by design. When there are no cords, kids or pets cannot get tangled in them.
Disadvantages of thermacell or honeycomb blinds
Cleaning difficulty
Because of the cellular structure that we like so much, it can be slightly tricky to clean them properly. Dust and dirt accumulate in the cells, so you need to clean each and every cell from the inside. This is not as complicated as it sounds, but it still can be challenging.
Less light control
Unlike Venetian blinds, where you can control the amount of light coming in, this is not the case with cellular shades. You have two options – all or nothing, raised or lowered.
Harrisons offers you a considerable range from semi-opaque light-filtering fabrics to light-blocking cellular shades to help resolve this issue.
Price point
Thermacell shades are certainly not the most expensive on the market. They usually fall in the middle range among all types of blinds. Slightly cheaper than Roman shades but slightly more costly than Venetian blinds.