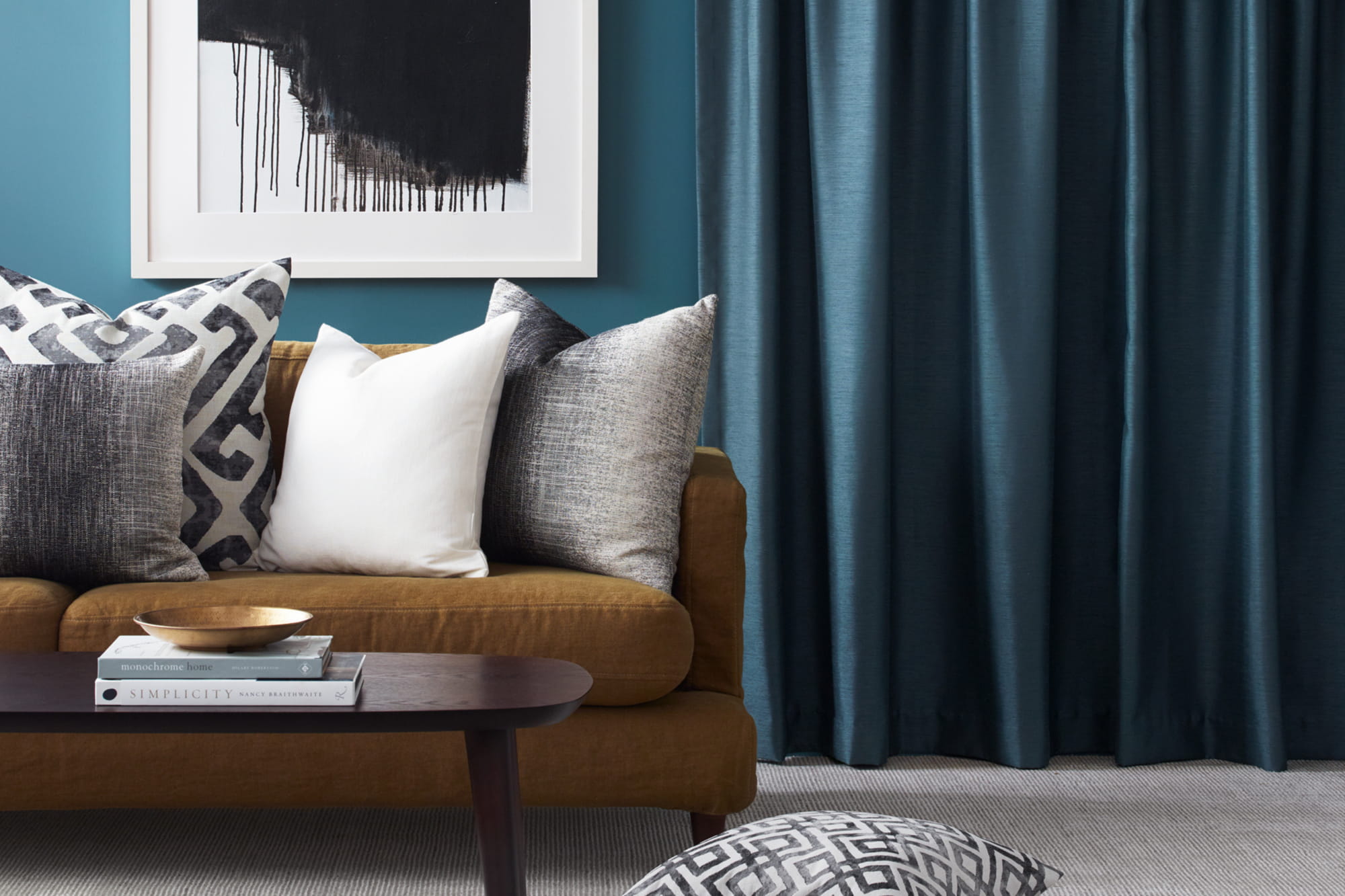 Blockout curtains are an effective choice, especially for city dwellers. As per the name, they almost completely stop external light from entering your rooms. This makes these window coverings a preferred choice for bedrooms. When installed correctly, they contribute to an environment that allows a deeper sleep, creates better insulation, and last but not least, offer you noise-cancelling properties.
Harrisons Curtains & Blinds has put together a quick guide about different blockout lining types to help you decide when choosing new window treatments for your home.
Thermal lining
Thermal curtain lining is an entry level blockout fabric with one layer of acrylic suede applied directly to the reverse side of the fabric. The acrylic lining is basically a thermal barrier, helping you reduce your power bills and keep your home warm in the winter and cool in the summer. As with all quality linings, thermal lining protects your interior from harmful ultraviolet light, plus they are treated to resist mildew and enable good drapability.
You do need to know that with one layer of acrylic coating, a certain amount of light will pass through the windows. Another disadvantage is that this fabric can sometimes leadto 'dust', which can annoy you when particles collect behind your curtains and on your sills. Also, thermal lining coated curtains are not machine washable. Professional cleaning is the recommended option.
Blockout lining
Due to modern technologies, you can find many options of blockout linings available on the market. Here are the key types:
Silicone-coated curtains
One of the newest and most popular options is silicone lining. Three layers of silicone applied directly to the reverse side of the fabric protect your home decor against the sun and moisture. This fabric has exceptional blockout abilities, and because it's thicker, it also retains heat better than the thermal lining. It is also easy to maintain as silicone coated curtains don't hold any loose dust on the back and can be wiped clean simply with a damp cloth.
Triple weave curtains
Another choice is triple weave lining. These curtains' fabric has a woven structure, making it softer and thicker.
Be aware this fabric is not 100% blackout. It allows a small amount of light to pass through. That's why it is also known as dimout. Choose darker fabrics for a higher degree of light reduction.
However, the three layer construction makes this a more energy efficient choice than the standard thermal lining.
Blackout acrylic suede curtains
Blackout lining is a three-layer coated acrylic suede applied to the reverse side of this fabric, making it better at retaining more heat and blocking out more light than a thermal lining. Unfortunately, these blockout curtains still create dust, making this a less preferable option as it naturally rubs off over time. As well as with thermal lining curtains, acrylic coated curtains are not machine washable.
Classic textile lining or lining curtain
Classic textile lining is the easiest way to add more control over any curtain fabric's light and thermal qualities. The second layer adds body and fullness to lighter types of fabric. Usually, the composition is either polyester/viscose or cotton blend or 100% napped cotton. Textile lining improves insulation and acoustic properties and provides extra protection for the interior and curtains themselves from fading.
You can also add interlining - additional padding between the face fabric and lining.
As always, our local business owners are on hand to provide free, in-home consultations and answer any questions about blackout curtains, cost, and style. We also offer free measuring and estimates.