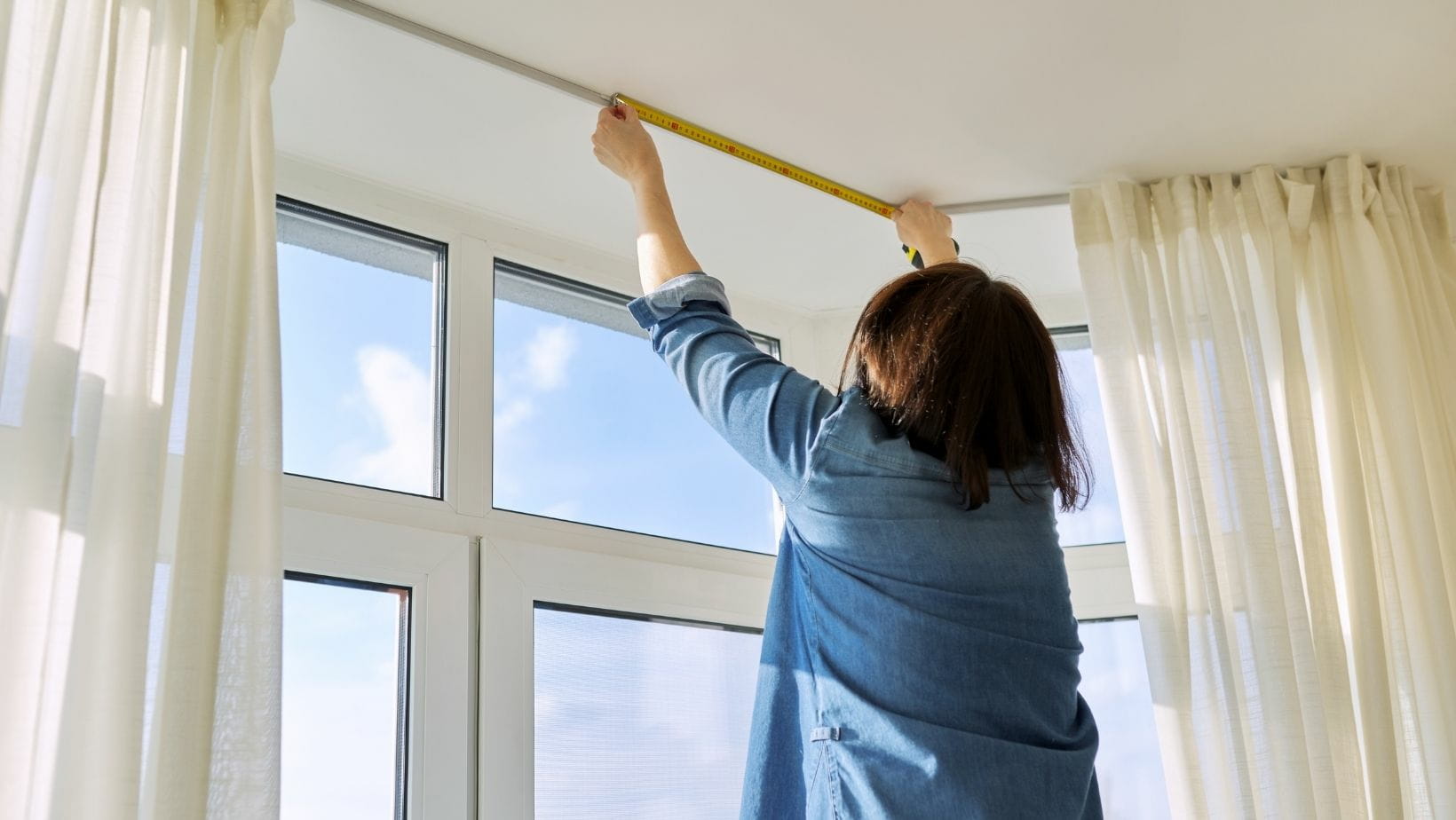 If you're thinking of buying custom or ready-made curtains or blinds, they must fit your window correctly. Incorrectly fitted curtains and blinds minimise the insulation properties, light control and privacy benefits of window treatments. So, how do you accurately measure your windows to ensure you get the full benefits of your new blinds or curtains?
Harrisons offer FREE in-home consultations that include a measure and quote; contact us now to book.
How to measure windows for curtains
If you want your curtains to cover your window fully, install your track or pole 15cm above the window frame. Usually, your pole (excluding the end caps or finials) would measure 15-20cm on either side of the width of your window frame (architrave); this is also your 'width' measurement for your curtain fabric.
Measure from the track or pole to where you would like the bottom of your curtain to be. This is your 'drop' measurement. If you want to fully cover your window frame, we recommend a 15cm drop below the windowsill.
If your curtains are not pleated, make sure you consider how much folding you would like in your curtains when they are fully drawn. Add extra to your width measurement if you do not want your curtains to lie flat across the rail when drawn. We recommend an extra 30-40 cm, at least, per curtain.
How to measure windows for blinds
First, you need to decide how you want your blinds to fit your window.
Recess fit is where the blinds are installed inside the window framing. You need ensure that window locks and handles will not interfere with the blind.
Face fit is where the blinds are installed on or above the window framing and end below the frame. Face fit blinds are usually more effective at blocking out light.
For recess fit blinds, your drop measurement will be from the top to the bottom of the inside of the window frame. The width will be from the left to the right of the inside frame. Measure each edge at three points to ensure the window frame is flush. If uneven, use the shortest measurement so your blind will fit, or consider a face flight for better light control.
You can install face-fit blinds directly onto the top of your window frame or 5-10cm above it. Your drop measurement will be from the installation point to 5-10 cm below your windowsill. The width will be between the outer edge of your window frame and 5-10 cm on each side.
Window measurement tips
Record all of your measurements in millimetres (mm) to ensure accuracy. Do not round up or down to the nearest centimetre.
Check your measurements at least twice!
The best tool for measuring windows for curtains or blinds is a metal tape measure to ensure accuracy.
Get someone to help you if you are measuring large windows.
When shouldn't you measure your windows yourself?
If you are using a combination of curtains and blinds, or a privacy netting below your curtains, your fabric and installation measurements become more complex. For maximum accuracy, regardless of the complexity of your project, we recommend asking a professional. It is always best to get your curtains and blinds measured right the first time!
Remember, once curtains and blinds are made, they usually can't be altered, so you have to get it right the first time.
If you want the best insulation, light control, privacy and a quality look for your curtains or blinds, book a free consultation with the Harrisons Curtains & Blinds team. We have a simple in-home buying process that accommodates all budgets and helps us accurately assess your window treatment needs. Get in touch with us here.