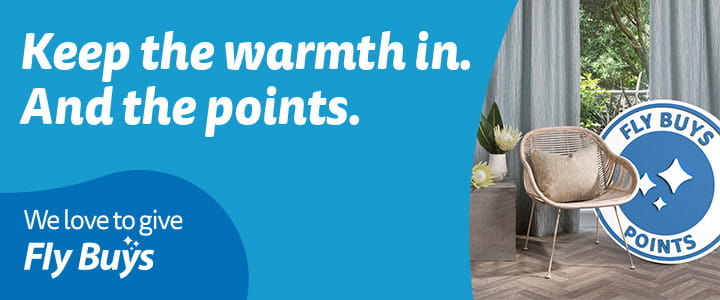 Harrisons Curtains & Blinds is the only window furnishing retailer to offer Flybuys.
With 1 Flybuys for every $50 spent, you can be sure you'll be rewarded with plenty of Flybuys on your next purchase of window furnishings.
Plus regular bonus points offers
Don't forget to ask about the special Bonus Flybuys offers that may also be available. Earn double or even triple Flybuys on certain purchases. Ask your Harrisons Flooring Business Owner what's on offer or check out the latest deals online.
It's easy to join Flybuys
Not a member? No worries! You can sign up to Flybuys and choose from 3 ways to be rewarded. Do it now and make sure you're a member when you purchase your new flooring from Harrisons Curtains & Blinds. That way, you'll be sure to score a massive amount of Flybuys to put towards your chosen reward currency.
What are you waiting for?
Transform your home and earn Flybuys today.