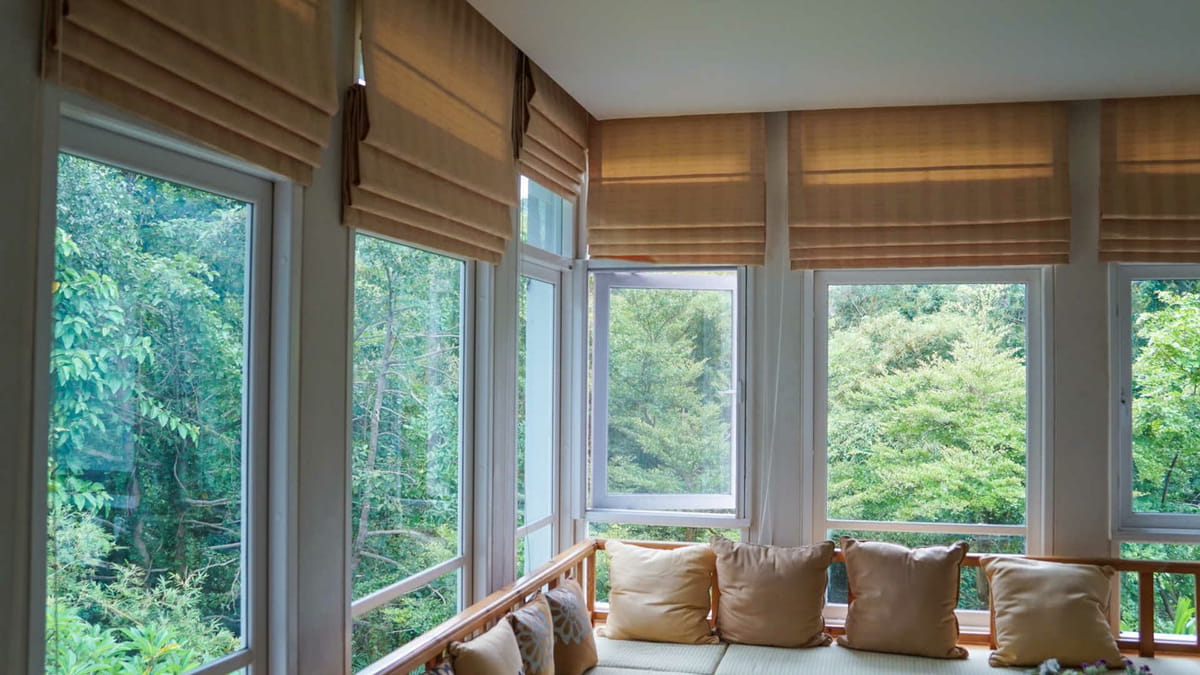 Roman blinds are an excellent choice for any room in the home. They're versatile, easy to install, and come in a range of styles to suit all functions and tastes! Whether you're looking to kit out your kitchen, bedroom, or living room, there's a roman blind to match.
If you're looking for new home window furnishings but aren't sure where to start, we're happy to help. Here's a handy guide explaining all you need to know about roman blinds.
Different Styles of Roman Blinds to Suit Your Place
One of the best things about roman blinds is that you can find a style to suit almost any space. Whether you want to create a comfortable yet spacious living area with flat roman blinds or add warmth and comfort to your bedroom with hobbled fabric roman blinds featuring soft folds, you can find a blind design to suit your space.
Flat Roman Blinds for Bold Patterns
Flat Roman blinds are made from a continuous length of fabric designed to hang flat against a window. They're backed with strong horizontal rods to keep them in shape for a structured look that's great for the pattern-lovers among us. They're great for bringing a statement finish to a room needing a little more life!
These blinds also sit flat against the window frame when folded, so they're unobtrusive and add a spacious feel.
Hobbled Fabric Blinds
Hobbled fabric Roman blinds have just a little extra material compared to a flat Roman shade. This design feature means they jut out from the wall a little when folded to add more texture and depth to a room. They look great in soft block colours and can add a touch of comfort without overpowering a room.
Installing Roman Blinds
Installing a Roman blind can be easy, but it can also be easy to bungle! In essence, all you need is a good tape measure, a pencil, a drill, and a spirit level, but in practice, you also need a steady hand and attention to detail.
Most Roman blinds attach to brackets bolted into the wall or inside the window frame. To instal these brackets, line them up with the correct positioning for your blind, mark the spots, and drill. If you're a little sceptical of your DIY skills, no worries! Harrisons Curtains has a team of professionals that can install your blinds for you! It's all part of our in-home buying process.
Cleaning Roman Blinds
Keeping Roman blinds clean is easy. If you have hardwood or plastic blinds, a simple weekly dusting and occasional wipe-down will keep them fresh and dirt-free.
A fabric blind is slightly more work to keep clean but still relatively straightforward. To clean your fabric blinds, remove the material from its backing rods and put them on a gentle machine wash or you can hand wash them in mild detergent – easy! Just remember that a machine dryer probably isn't the best idea; leave them out in the fresh air instead!
Child-Proofing Roman Blinds
Recently there has been a push to child-proof blinds as often cords can be a hazard in the home. Cords should be tucked away out of reach by looping them around a wall tether and placed mid-way up the wall. This will keep the cords tight and away from the reach of little hands, so you don't have to worry.
Choose Your Roman Blinds with Harrisons Curtains & Blinds
Looking for the perfect window treatments? New Zealand's own Harrisons Curtains and Blinds are the experts! We offer helpful advice so you can choose the ideal roman blinds for your place.
We bring the showroom directly to your home when you book a free consultation. Our team will visit your home to advise, measure, and give you an on-the-spot quote. Together, we can help you create beautiful spaces with stunning custom-made blinds.